Frank and I checked a protected, deeper water spot I hadn't fished all season.  In previous years, the white papio and awa awa would be hitting non-oama bait schools before oama arrive on shore.  The plan was for me to locate the bait and predators with the portable fish finder mounted on my yak, and for Frank to bring 'em up for viewing with frozen oama.  Once Frank identified the predators I'd try hooking them with a sinking lure.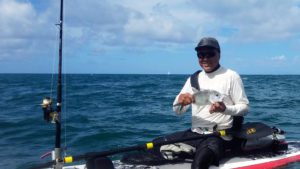 A few minutes into our launch a large fish symbol appeared on the fish finder, 5 ft off the bottom.  Anything suspended above the bottom is a potential predator and sure enough Frank hooked up on his 1 yr old frozen oama he slow trolled in mid-water.  The fish battled hard, up and down, and Frank was able to land the first white of the day.  I cast out a heavy sinking swimmer that worked well the first time I tried it, but hadn't worked since.  Nothing.  Frank baited up with another frozen oama, retraced his route and was on again.  This one shook off before he could see it.
The bite stopped so we ventured out into the 12 – 15 mph head wind for a mile and a half or so but there were no bait balls and no bites.  I put on a 2 yr old frozen oama and we let the wind blow us back towards our launch point.  As we got neared our destination my line felt like it snagged the reef edge.  I yanked and pulled and a scuffed up 11 inch omilu came up!  It might've been pulling a little line off my whipping reel (no ratchet) and I might've been dragging it for a while.  It was tired but managed to swim back down.
We neared the channel where Frank had his earlier strikes. I checked the opposite edge that had held awa awa in the past after seeing small bait marks on the fish finder but nothing took my oama.  When I paddled over to Frank, he smiled and exclaimed "I had a screammmmmmaahhhhhh".  Something hit his oama and made 2 or 3 very strong runs straight down, against his tight drag.  Unfortunately the hooks pulled and I wasn't able to witness the biggest fish he's battled so far.  He asked if he should have run a looser drag but that's risky too since a big fish could find the reef edge, or take a lot of line in a few seconds.  I think I've read that 1/3 of the breaking capacity of the line is a good amount of drag to run.  'Course we go by feel, and don't pull line off with a scale, but it's good to remember not to run too tight a drag unless the grounds are really snaggy.
Frank baited up with another frozen oama and circled the area that had been so productive for him.  I paddled through a channel closer to shore and my light whipping rod bent over like I had snagged the reef. Line peeled out smoothly so I realized I was actually on a fish.  This fish fought up and down like Frank's and felt bigger than it actually was because of my lighter action rod and small reel.  It later measured 14 inches (FL) and was headed for my family's dinner.  I baited up again, paddled over to Frank and we trolled the stretch side by side.
Fish showed up in the same area on the fish finder just as they did when we started the day, suspended off the bottom.  Frank had to tell me I hooked up again because my rod was bending from the tip but I couldn't tell without the sound of a ratchet.  The fish felt pretty big but ended up 13.5 inches (FL).  While it was fun to battle the whites on small gear it was a big disadvantage not to have a reel with a ratchet to tell me when something was tasting the oama.  I liked to imagine I was on Wicked Tuna when a strong fish would scream the small trolling reel.
All in all, it was a successful day.  Frank paddled his custom Fishing SUP further than he had in the past, against a stiff head wind.  My cheap fish finder found the suspended whites and the frozen oama brought them up for identification.  I was a little disappointed that the sinking lure didn't get bit.  Next time I'll try to drop a jig on the whites' head and call them up with a popper on the surface.