After my disastrous first attempt at halalu fishing with a small bait caster, I tried a slightly larger, better bait caster and had a similar disaster.  I guess these reels weren't meant to throw 4lb test line in windy conditions.  I don't own a small spinning outfit so I thought I had a way out to avoid any further halalu embarrassment.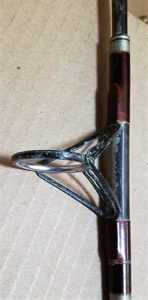 But the guys wanted to go again so I asked my dad if he had a small reel and he pulled out a Stradic 1000FH.  My dad's a dunker, not a whipper, and has an assortment of Penn SS reels so I was stunned that he'd have a light line, early model Stradic. After cleaning it up, it spun smoothly.  The lightest action spinning rod I could find was the 6.5 ft Daiwa graphite rod I used off my surfboard in the 80s.  It had been in storage most of that time. The guides were corroded, and the epoxy wrap finish had peeled.  I couldn't even make out the model number or see what it was rated for.  But the guide rings looks smooth and it passed the 'swish' test so I cleaned it up and mounted the Stradic 1000FH.
Loaded the reel with 4lb test mono off the bait caster and the rig felt pretty balanced.  Next, I tied a bunch of 3lb test leaders so I wouldn't have to make leader at the spot, in the wind.  Lastly, I cut some strips thinner than the pre-cut ones, since that seemed to be that the other regulars were using the previous time we went.  Looks like I was set to go.
Frank and I got to the halalu spot and were thrilled to see a smaller crowd than the first time.  Even though I was using my old spinning rod, it felt strange to cast such light line in a confined space.  Frank starting emulating Thad's shake-the-rod-with-the-right-hand-above-the-grip-and-crank-with-the-left-hand technique and started catching fish! He caught 5 in rapid succession, and a regular there started asking him what he was using as a lure.
He was using a short stubby soft plastic lure that looked like a bait fish made out of the same material as my strip, but I wasn't getting bit.  Resigned to copy that rod on the hip, shaking style, I was surprised to actually catch a halalu.  On my next cast a fish broke my hook off and I put on a slightly shorter pre-tied leader.  I couldn't get bit again so I put Frank's bait fish lure on.  It was still slow, and Frank was landing fish after fish so I changed to the longest leader I had, maybe 6ft.  With that and Frank's lure I caught another fish as Erik joined us.  It was Erik's first time halalu fishing, and he started off with a fly, then a small clear bodied grub and tried various jigging techniques. Erik got a halalu with the rod on the hip style but it was a slow go as the tide rose.  I changed back to strips and maybe caught one fish.  Went back to the bait fish and actually got bit when the lure was just falling to the bottom! Meanwhile, Frank was quietly putting fish in the bucket.  The aha and omilu knew Frank was the high liner of the day and attacked his halalu. He had an omilu on for about 20 seconds before it broke his 3lb leader.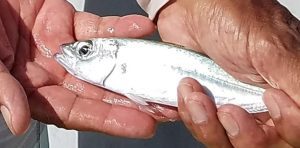 Part of my many problems was I'd hook a fish, and then let the guys know I finally had one on, then admire it in the water and see if something would attack it.  By then it would shake off.  But our second outing was way more enjoyable than our first since we weren't breaking lines and retying in the wind.  Frank and I had to leave Erik. At that point Frank had 26 halalu, Erik had 3, and I had a whopping 5.  After we left, some old Japanese halalu ringer showed up and Erik learned from the master, using a strip lure and not the bait fish lure. Erik caught 7 more halalu in a short span to end his first day halalu fishing with 10. I can't blame my equipment this time.  My dad's old reel on my old whipping rod did the job.  Guess I'm just a slow learner.