Continuing the tradition started last year, the Pacific Islands Fisheries Group (PIFG) guys, Neil and Erik, traveled to the Big Island to boat fish the day before the Tokunaga Challenge weigh-in.  We stayed with Neil's childhood friend Jeremy, who chauffeured us around like celebrities. The moon was a lot bigger than last year's half moon conditions, and there was a 5.3 earthquake the day before.  We were eager to see how that would affect our jigging prospects.
Capt Wes was fishing a tournament in Kona that day so Capt Braiden, last year's first mate, took us out on the 19 ft Glasspar he recently purchased.  The wide beamed boat easily handled the five us and provided a stable platform to bottomfish.  We started at the jigging spots that were productive last year, and came up empty.  Capt Braiden, who doesn't normally shallow bottom fish, worked the sounder and GPS to find other likely spots.  Jeremy fished cut shrimp, Neil and I jigged, and Erik switched between jigs and damashi with flies.  Jeremy hooked something solid and carefully brought a big, thick yellow spot papio to the net.  That gave us hope, but the lure bite didn't materialize.
Slowly the guys switched over to shrimp on damashi and went through the initiation of hage and lizardfish.  Erik hooked something big on the bottom hook of his light damashi setup and gingerly worked it up but it eventually bent the hook and swam free.  Capt Braiden tirelessly worked the various reefs and drop offs. The tide was halfway through its rise and Neil got a small nibble that felt different from a hage, and heavier than a lizardfish. Nabeta!  It was on the small size but very welcome since nabeta were the best eating of the first we had caught last year.  Soon the guys were bringing up singles and doubles of  larger nabeta as Capt Braiden carefully plotted his drifts.
Neil continued his nabeta pioneering by landing a black fish that we later realized was a nabeta, followed up with a second black nabeta.  Turns out black colored nabeta are of the same species we were catching, but a very uncommon catch.  The two black nabeta were smaller than their lighter colored siblings, but pulled harder.
I stubbornly kept jigging, using slow falling, fast falling, larger bodied and very small bodied jigs, eventually trying 9 different lures.  Earlier something small was on, shook its head pretty actively and came off. Then a larger fish took drag repeatedly but slipped off the debarbed hooks when I paused to try to find the "on" button of Erik's Go Pro camera strapped to my chest.
My jigging muscles were tired after hours of non-productive lifting and cranking.  I felt bad that I wasn't contributing to the nabeta pile so I bummed a homemade 2-hook dropper rig from Neil and baited up with shrimp.  Once I hit bottom I felt a strong tug and cranked what I thought was a whopper of a nabeta to the surface. Turned out to be hage and so was the next fish I brought up.  The guys said I had to go through the hage initiation and thankfully the third fish I brought up was a nabeta.  At this point we had run out of shrimp and were chunking lizardfish for bait, and I added a couple more nabeta. The others were much more effectively adding to the community catch.
Out of cut bait and an hr left to fish, we worked our way back towards our launch spot. Capt Braiden stopped in the general area where we caught the ulua last year.  He must've dialed it in perfectly because the first drop of the 2 oz  Ahi USA Live Deception in Green Mackeral (last year's magic lure) got walloped a few lifts off the bottom.  It felt awesome to have something bend the rod and pull drag.  I babied it a bit since it would be my first jig fish of the day if landed, and it took me around the stern.  It came up very shiny and Neil expertly netted it. Kagami papio/ulua, the first jig fish I caught last year too!  This one was smaller than last year's and the guys decided it was too beautiful to kill.  We tagged the 20.5 inch (FL) kagami and set it free.  Erik blended my chest cam's footage and his stick cam to create this beautiful video.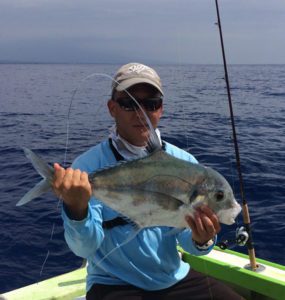 The guys were pumped and Jeremy dropped down a frozen oama Braiden's wife had caught the year before.  It got inhaled and he calmly battled a stronger fish than the kagami I had just released.  After a series of powerful runs a larger, slightly less shiny fish surfaced.  21.5 inch (FL) white papio/ulua.  That one was headed to Capt Wes' smoker.
We drifted out to deeper water and my 2 oz Live Deception took longer to hit bottom.  The "scope" of the line was greater than I preferred because my lifts couldn't make the lure fall as intended but the jig got picked up and the fish made an initial run.  Thinking it was another papio, I was waiting for a strong dive as I tried to smoothly bring it to the surface, but the fish was whipped. It turned out to be a weke ula, maybe a couple of pounds.  Erik had been telling me to eat the weke ula raw instead of steaming it, since it's a little firm and crunchy when cooked, so I kept it.
Nothing hit my Live Deception on the next drop and since we were in deeper water  I put on an 80 gram (2.8 oz) Shimano Flat Fall.  It got picked up and I felt tugs as I reeled it in. Hage on both assist hooks!  How'd it fit such large hooks in its small mouth?  That was a sign that it was time to head for the barn.
We suspect the slow jig bite was due to the full moon the night before.  The predators may have fed at night and were resting up for the next night bite. Big ups to Capt Braiden for putting us on the most productive nabeta harvest we've ever experienced and over some big papios.  Much Mahalo to Jeremy for the Big Island Hospitality.
Here's the crew. We couldn't all be in the same photo because someone had to take the picture!  Neil plans to donate one of the black nabeta to the NOAA Pacific Islands Fisheries Science Center, and eat the other to compare to the normal colored nabeta.