I had "accidentally" caught a nabeta on a 2 oz jig the last time out and hoped that a  damashi rig would be a lot more effective.  Found these packaged damashi rigs from my California party boat days but dealing with so many hooks concerned me.  I split the rigs in half, sort of, and limited the modified rigs to 2 hooks each.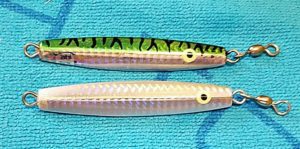 Expecting the current to be slow on a projected light wind day, I used a 2 oz Ahi USA Assault jig with the treble hook cut off as the damashi weight about 2 ft before the bottom hook.  Added an assist hook to the top.
The winds were light on our paddle out and Frank immediately hooked up with two 12 inch omilu on frozen oama.  I put out a lipped sinking swimming plug when I reached 50 ft and had a screamer of a strike.  A fish jumped out of the water in the distance and I was hoping the long, skinny fish was another ono like Frank had caught a couple of weeks ago. Sadly, it was a tail wrapped aha which I video'd but am no longer giving those nasty fish any more blog space.  With the such a hot inshore bite we were anticipating some action in the deep.  It took a while to find what I think was the opelu school and they were scattered near the bottom in the 120 ft area.  Unlike the previous trips, they weren't bunched up and thick, and just past them, there was a weird rip current churning the top of the water that took us on a bumpy ride out to sea.  We paddled back closer to shore and noticed the bait school was staying just on the inside edge of this rip.  Our weights didn't get the damashi rig straight down through the strong current and after trying for more than an hr we paddled in a ways to look for nabeta.
More weirdness. Our damashi rig appeared to getting pulled to the east, but we weren't drifting to the west.  Once again, the rigs weren't straight up and down which made for sloping jigging of the flies.  Nothing bit our rigs and then the trade winds picked up and we had to paddle in to the protection of the inner reef.
Frank deployed another frozen oama and got bit right away.  Another off-season 12 inch omilu!  He was making it look too easy.  I joined him and whipped my swimming jig in the vicinity but bite ended.
I consulted my damashi senseis and asked why we did so badly.  They said our weights were too light for the strong current, my hooks were too far away from the weight, and when we fished the inside, there was probably a strong current pulling east with wind blowing west, holding our kayaks in place.  Bottom line, when the damashi isn't getting down effectively, use more weight.  I'll try 4 to 5 ounces next time, and make my lead about 5 inches from my bottom hook.  If we actually catch an opelu we're not fully prepare to use it properly but we'll deal with that bridge when we come to it.
If you guys have any damashi tips for us, please send them our way!