The forecast called for light winds so Frank paddled his trusty fishing SUP and I took the Scupper Pro.   My plan was to try to get better with my new fish finder and learn how to fish the damashi. Frank intended to troll a frozen oama out, and then troll and jig various lures. The bait cloud was at 130 ft this time, but wasn't showing up as dense on the Garmin EchoMap 44CV as previous bait clouds had. I dropped the damashi down but nothing bit. I'm guessing the bait was a smaller fish than opelu but I sure would like to have pulled up a bait to see what they are.
The trade winds blew over 10 mph at times so we kept paddling in a ways to reset our drift. I put the time in, dropping the damashi on various bait marks.  Frank trolled between drifts and jigged off the bottom.  Not a single touch for either of us so when the winds turned offshore and increased to 12 mph we went further in.
I had marks that looked like single, large fish, at 40 feet but they wouldn't take a jig.  I purposely wasn't carrying bait, so I could focus on my damashi education, but was wondering if they would have taken something real.  Frank then hooked a fish on frozen oama in 15 ft of water. Awa awa!  He called me on the walkie talkie but I misunderstood when he said "Hanapa'a………….awa" and thought he said "Hanapa'a……..off" because the fish came off. It's very hard to push the button to talk when you have an angry fish on your line.  The fish jumped twice, then made some long runs, and spun his board around 4 times.  It was so feisty he had to dispatch it with a knife after he netted it.  I'm bummed I wasn't able to video the action.
We fished the 10 to 20 ft depth for another hour and Frank landed a roi. I finally hooked something  on the Gulp grub that I threaded on a small damashi hook. It looked dark and when it shook off about 5 ft from the surface I thought I saw red.  Moana? Roi?
The action was very slow except for Frank's awa awa.  Was it because the tide was so slack on this day?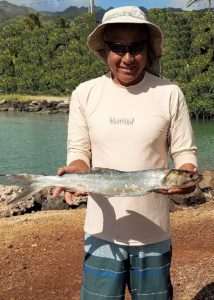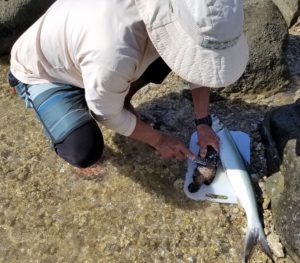 Frank cleaned the awa awa and roi at the beach and fed the ecosystem with the scraps.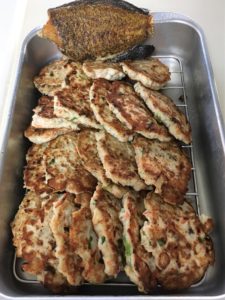 Here's how he made his delicious awa awa fish paddies:
Fry some minced garlic and chopped round onion in oil, then add ground pork and chung choy (salted turnip).  Brown and cool.
Then add a little water to the awa awa paste to make it smooth. Mix in green onion, water chestnuts and grated carrots.  Mix in the ground pork mixture and form patties.  Fry the patties, being careful not to overcook them.  Drizzle oyster sauce or plum sauce and grind 'em!
Frank fried the Roi and you can see it at the top end of the pan. Roi is actually a very delicious grouper, and small ones from this area haven't been reported as cig-hot.  He said it tasted very good, and plans to steam the next one he catches.
I'm seriously concerned about fishing the deep on this side of the island since off-shore winds seem to come up most of the time and cause us to scramble back in for safety.