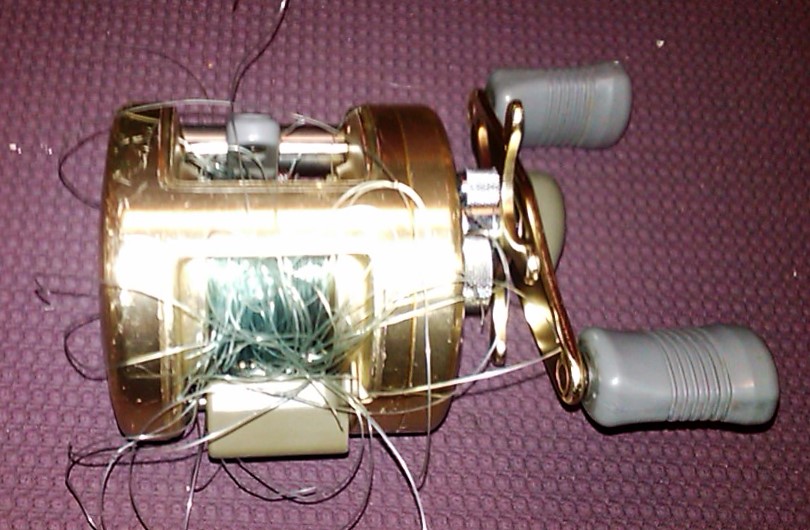 I often get asked that.  And truthfully, the answer is I was too lazy to get a spinner and re-learn how to fish with one.  I grew up fishing with a spinner on Oahu and started using a baitcaster when I lived in California.  Baitcasters had improved significantly, reducing backlashes with centrifugal or magnetic brakes that slowed the spinning of the spool during the cast.  The baitcaster cast the heavy, soft plastic inshore lures really well, and worked great fishing vertically from a boat or kayak.
Hawaii inshore bait fish and the lures that mimic them are much smaller and lighter in comparison to their California counterparts.  Here, I'm often throwing a 1/2 oz lure into a cross or head wind.  Much easier done with a 9ft light-medium spinning rod than an a 7ft-something casting rod.  The guys I whip with easily outcast me.  And if we're using poppers for papio, I have the additional problem of having to reel in the slack and pack it on the reel tightly so I don't backlash on the next cast.  So in those situations using a baitcaster is a handicap not an advantage.
I recently used a 1000 size spinning reel to whip for halalu, a 5000 size 2-speed spinning reel to cast a sub-surface lure and a 10,000 size spinning reel to bottom fish from a boat.
Here's what my cast and retrieve looked like fishing the sub-surface lure with the 5000 size 2-speed. Even though I was trying to retrieve the lure straight, the rod kept dipping as I cranked, probably due to my lack of spinner dexterity.  With my baitcast setup I could have swum the lure in on a straight crank a little easier.
I could cast further with the spinner and cast into the wind without issue, but opening the bail, doing the whip cast, closing the bail and retrieving was more cumbersome than putting the bait cast reel into free spool with my right thumb, doing a lob cast, switching hands and turning the reel's handle with my right hand to engage the reel.
So, here's where I feel each type of reel shines:
Spinner
Whipping light lures, using a bubble and lure, popping lures.
Casting into the wind, casting ahead of where a slow trolling boat is heading.
High speed jigging with rapid rod raises.
Baitcaster
Dunking baits, slow retrieving bait near the bottom., fly lining a live bait fish in free spool.  (It is called a "baitcaster" after all)
Casting heavy baits and lures, making precision casts, retrieving straight swimming lures with fine tuned adjustments.
Smooth, controlled jigging, fishing vertically from boat or kayak.
A few unique strengths of a baitcaster:
Simplicity of design, ease of maintenance.  The baitcaster has few moving parts because it doesn't need a bail and rotor to "spin" the line onto the spool.  Maintaining a bait caster is normally easier than a spinner.
Power to weight ratio.  Because the baitcaster has fewer parts, it's much lighter compared to a spinner of similar line capacity and max drag.  Lighter means you can fish it longer without feeling worn out and still have the line capacity and drag to handle large fish.  You can also generate more torque/pulling power with a bait caster because you can crank even when there's a lot of tension on the line.  With a spinner, the line is twisting 90 degrees on the line roller as you crank, so you can't do that under pressure, instead you have to lift and crank down to gain line.  You should still lift and drop down to gain line with a bait caster but if the fish happens to run while you're cranking, there's much less strain.
No line twist since the line is being wound in the direction it is being retrieved down the rod's guides.
Ease of going into free spool (push of a thumb bar) and getting back into gear (just turn the reel's handle).  When you make hundreds of casts, that makes a huge difference.  It also makes it really easy to drop a jig down and set the hook on a fish that hits on the fall.
Traditionally, baitcasters were low speed, torquey reels used to pull large baits through the water.  Daiwa and Shimano recently introduced high speed, salt water grade, low profile baitcasters meant to attract medium sized ocean fish with blazing fast retrieves and subdue them with oversized gears.  Tunas and jacks (GTs, kahalas, yellowtail) have been landed on these reels.  I was given a demo model of the Shimano Tranx 400, one size down from the largest Tranx 500, to test in Hawaii before it was released to the public this summer.  Its specs and pricing are similar to the Shimano Saragosa 8000 but it's much lighter in weight, albeit with less max drag.  To have that much power and speed in a small low profile frame is truly revolutionary.  It's as light as the smallest baitcaster I use to throw light lures for kaku, but has handled big papio and that 14lb kawakawa so far with no problem.
Shimano Tranx 400 HG (high gear) baitcaster

40 inches per crank
275 yds 50lb braid
max drag 18 lbs
weight 12 oz
$299.99

Shimano Saragosa SW 8000 spinner

42 inches per crank
265 yds 50lb braid
max drag 27 lbs
weight 24.3 oz
$289.99
So should you fish a baitcaster regardless of the conditions? Probably not, but even if there is a learning curve, they are a joy to cast.  There's something soothing about making a clean, controlled cast. When I cast a spinner it feels like random chaos.
I strongly recommend the Tranx 400 HG for papio up to small ulua and mid-size off shore fishing.  It has made my previous generations of baitcasters obsolete.  I liked it so much I bought a second one as a backup from Charley's!