The early morning forecast was for light winds and small waves on the Eastside so Frank and I launched our watercraft and put out the thick live oama, Kelly and I caught last week.  Frank headed down the coast, staying just behind the breaking waves, and I used my fish finder to survey the deeper reef behind the surf line.  We kept in touch via waterproof walkie-talkie.
The tide was just beginning to rise so the bite was slow until it reached the bottom third.  My line got stuck a few times and I was able to pull out the snag and retain my double hooks but was missing the oama.  Finally it felt like a fish was on but the fight felt odd.  A 10 inch yellow spot papio was hooked on the front hook and an 11.5 inch omilu was on the back hook. Gotta love the sticky sharp Gamakatsu Live Bait hooks. The yellow spot was probably trying to turn and swallow the big oama when the omilu got hooked trying to steal it from him.  They're doing their best synchronized swimming routine here.
I decided to try to tag them if I could them back in the water in good shape. Tagging one papio in the narrow quarters of my Scupper Pro is hard, two was quite a challenge, but the snag-free floating Promar net helped a lot. While I was tagging the second papio, Frank got a hit that pulled his live oama off.
Frank then landed an omilu on the live oama and a huge roi on frozen halalu, battling him for a long time.  Then Frank and I both had our live bait pulled into the rocks or cut off our leader.  Kelly paddled out to join us and I gave him the live bait bucket with the 7th live oama. I had one on my line and had used 5 to only catch those 2 papio I tagged.  Not a very efficient use of the live bait.  Kelly advised me to paddle up the coast towards the channel that's fed brackish water, and he headed down towards Frank.  They can safely fish much closer to the waves on their SUPs than I can, so they often fish together.
Kelly immediately caught an omilu on the outer reef and called Frank over.  Frank converted his last 3 live oama to 2 lb plus omilu and then they both used halalu for some omilu caught and missed.
Going towards the stream outflow was the right call for me.  There were weird plankton and maybe jellyfish blooms (I got a series of small stings on my ankles) and schools of larger bait fish being boiled on.  I free spooled the last oama down and it was picked up before it reached the bottom.  The fish felt pretty decent but ended up holing up in the rocks. I could feel it still on but couldn't free it and eventually broke it off.
I hooked a frozen halalu in the nose and butt and let line out.  Something tugged in rapid jerks and pulled it off.  I put another on and this time it stuck… line screamed off the reel. You can guess what the fish was before you see it landed in this video.  I followed it up with a small omilu on a halalu that I kept for the parents.
Trolling baits near the bottom was working really well so I wanted to see if I could drop a frozen baitfish down on my whipping setup and work it back.  This failed miserably. The fish either missed the single, front hook or the bait fell apart after a few casts.  At this point I realized I somehow knocked my walkie talkie in the water and it had floated away.  I paddled back to the channel we had gone out of and waited for Frank and Kelly to see me since they were probably searching for me.  Frank turned the into the channel and hooked and landed his biggest omilu, and Kelly missed two smaller omilu inside the break.  Good, safe fishing day with the boys.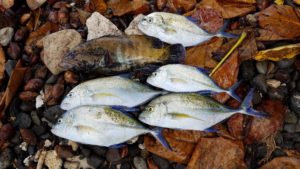 Here's Frank's catch. Look how big the roi is.  With the understanding that roi isn't that much more of a cig risk than papio, Frank filleted the roi and steamed it Chinese style.  Said it was super ono. The omilu he shared with kupuna neighbors who rarely get to eat fresh fish.
Let me know what you think of videos. I'm still learning the basics of video editing, with a lot of help from Erik (@fishoahu) who has some killer action videos on Instagram.