We definitely were past the "nearshore" boundaries on this outing.  I wanted to test some heavy jigs with the Shimano Tranx 400, and Capt. Darren and Rey were kind enough to let me join them. I was wearing a GoPro Session on my cap for the first time, hoping to get decent footage of how the Tranx performed, and of our catches since it would be easier to point the GoPro than to take my phone for a still photo.
Darren fished the traditional methods of damashi with lures, and deploying a bonus line with cut bait.  He caught more fish than we did jigging but Rey was a close second with an amazing variety of species caught with his customized vertical jig spinning outfit.  I just landed a few fish on my slow pitch jigs, jigged slow and also fast, but the catches were memorable.  Out of respect for their privacy I'll just be talking about my meager catches.
I started with an "inchiku" type jig that had an octopus hanging off a chunk of lead.  A small yellow spot papio hit that but the action slowed so I moved on to the new Live Deception jig with UV paint and a stout assist  hook off the front eye. The original Live Deception had always caught fish so I was surprised with nothing hit the new one. I switched to the original and didn't get bit either.  I tried other jigs that had worked in the past and still came up empty.  An oddball looking white jig with pink stripes got hit as I lifted off the bottom and a hage made it to the surface.  That gave me some hope.  On the next drop a yellow spot papio hit it on the first lift.
We drifted past 220ft so I went with an 80 gm tungsten jig that was very dense and fell quickly.  That got slammed by something bigger as I lifted it off the bottom also.  Still, it didn't feel too big because the Tranx's smooth drag and big gears.  We didn't measure the white papio but it looked bigger than 7lbs.
Rey was doing really well fast pumping through the water column so I tried a medium – fast pumping retrieve.   The slow pitch jigs wouldn't swim well at this pace so I had switched to a swimming/casting jig from Japan.  It was easy to to tell if the jig got bumped as it fell to the bottom, and a turn of the handle engaged the Tranx's gears. In the video below I'm clumsily lifting and cranking to make the jig shoot up and then slide a bit before shooting up again.  A smoother retrieve would have been to life and crank in an exaggerated circular motion.
About 2/3 of the way up I got hit by something with head shakes and frenetic tail kicks.  It felt like a small kawakawa but then headed for the bottom with authority. I thought a shark or ulua got it as you can hear on the video.  Turns out this same jig had caught a smaller kawakawa on a previous trip.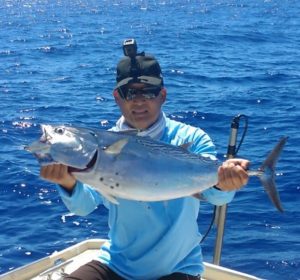 The 14lb kawakawa was a fun fight but the Tranx 400 had things under control the whole time.  The Game Type J rod and Tranx reel were so light and comfortable to fish the whole day.  I also had the Tranx 500 on a Shimano Trevala TFC medium action jig rod, but that felt a little bulky for the size fish I was catching. If something big showed up, I was ready to grab it though.
Rey's unique vertical jigs and refined technique outfished me 3 to 1.  My gear and lures were really meant for slow pitching but the fish didn't want to eat slow pitched jigs that day.  The Tranx 400 was plenty fast with 41 inches per crank but the Game Type J rod didn't spring back fast enough for a heavy, fast jigged lure. In hindsight, maybe I should have used the heavier Trevala jig rod, but the fights wouldn't have been as fun.
The GoPro head cam wasn't always pointed where I wanted, and I found out it takes a long time to go through and process the worthwhile clips, but all in all it was a successful equipment testing trip. Much Mahalo to Capt Darren for being so tolerant as I bumbled around the boat, and for Rey to fill in for me when I should have been helping more.  I started the day off getting seasick (first time ever) and my back tightened up fighting the kawakawa.  That made me even more impressed with how the guys could power through with little sleep on a constantly rocking boat.