Over the last 3.5 years of writing this blog, I've stumbled upon equipment to make my fishing easier, more productive and more enjoyable.  I can't share our fishing spots with you but I can share the equipment I especially like.
The gear categories are fishing tackle, fishing attire, kayak fishing equipment, fish and drink cooling systems, and cleanup solutions.
My style and preference may be very different from yours so please take that into account.  Where I deviate the most is using bait casting gear instead of spinning gear.  I've mentioned why I like to use bait casters here.
Some of my gear may be discontinued but you should be able to find a newer, hopefully better version of the product.  If you have a product you think is better, please share it with us.  I'm always looking for continuous improvement.
I'll update this list as I think of other products to add or replace, and write separate product reviews for the really deserving ones.

Fishing Tackle
Rods: I primarily use bait casting gear and like my rods to be as light in weight and as sensitive as possible.  I try to be careful with my rods so I've been able to use graphite / carbon fiber rods which are lighter and more responsive than fiberglass. The lightness really makes a difference when I'm whipping or jigging for hours at a time.  For whipping, I try to find G. Loomis demo rods on eBay, and use Shimano Trevala rods for jigging.
Reels: Again, I primarily use bait casting reels.  I used other brands in the 90s to kayak fish and they corroded quickly so I switched to early model Shimano Calcuttas and have used Shimanos since. The Shimano bait casters rated for salt water are easy to cast, corrosion resistant and fairly easy to maintain.  If I need to have the reel professionally repaired, Shimano's flat rate repairs have been very reasonable.  Reel parts are also available online at a great price with expedited shipping.  I'm able to do most of my reel maintenance myself now, after bungling my initial repairs.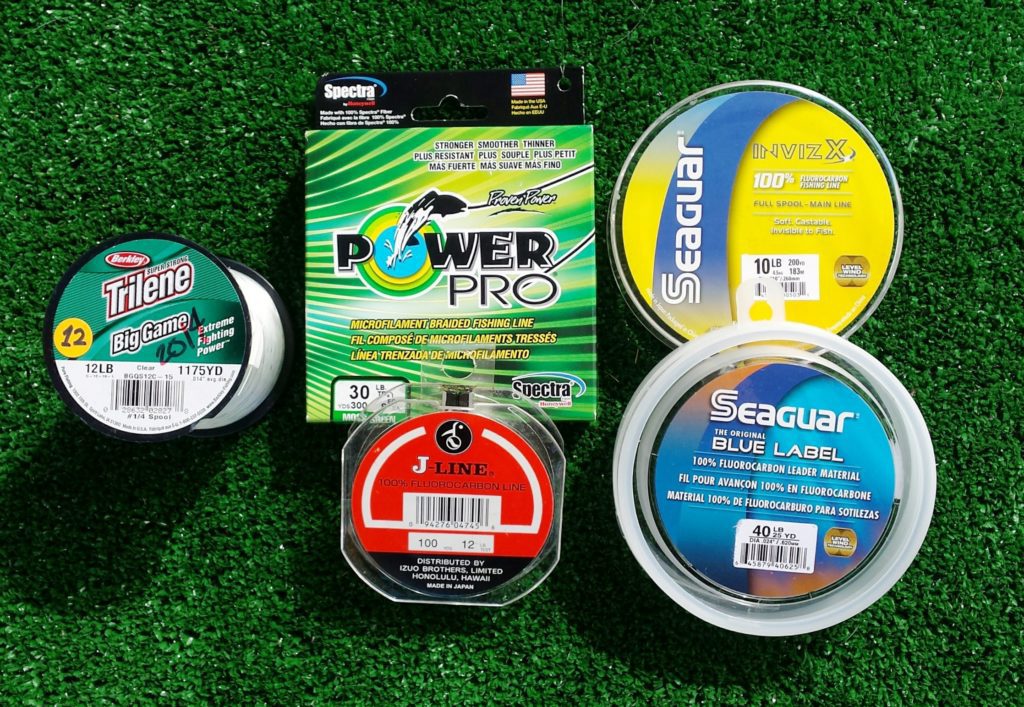 Line – Backing or Main: Sufix 832 braid. I've tried the other popular brands with less than desirable results.  I've found Sufix 832 to be round (8 strands), smooth and cast very well.  It doesn't bind into itself they way the other brands did, and if I do get a rare backlash I can easily pull out the snag without too much drama. I've heard great things about Jerry Brown braid and want to try that soon.
Line – Top Shot: I'm able to put Seaguar Invizx fluorocarbon on my bait casting reels. I've tried to put it on a spinning reel and it spun itself off.  Invizx, being castable fluorocarbon, is nearly invisible in the water and very abrasion resistant. It takes a lot of rubbing on the reef to get cut off by a fish but it also makes it hard to break off snags.  I use Invizx on my trolling reel and inshore casting reel.  Invizx only goes up to 25lb so I don't use it on my plugging setup.
Line – Leader: Seaguar Blue Label fluorocarbon leader. I like that Blue Label is supple and easy to tie knots, and doesn't seem to kink like some other brands.  Seaguar Premier is more expensive and stiffer, by design, so I stick with Blue Label. I use 40lb Blue Label in place of wire leader when kaku are around and don't think I've been cut off yet.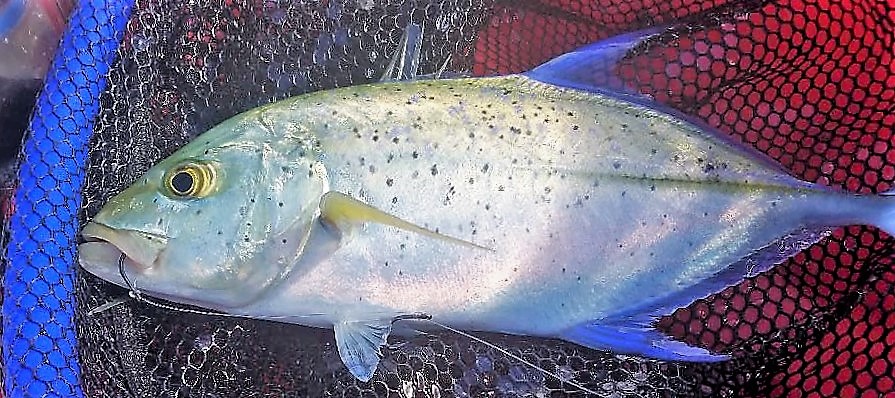 Hooks: When I lived in California, I'd go on party boat trips once or twice a year.  The guys would tell me that if you're gonna spend the money for these trips you don't want to lose a fish because your hook was too weak or too dull.  The "designer" hooks cost a little more but you know they are sticky sharp and won't break on a fish.  I use a Gamakatsu Live Bait hook as the front hook on my double trolling rig because the short shank doesn't extend out too far and make the bait look funny, and an Owner Flyliner hook on the rear hook because the longer shank will extend out of the fish and be easier to unhook. I pinch the barbs down because I often tag and release and it'll be easier to pull out of my flesh. I replace my lure trebles with Owner Inline Singles for the front hooks and Owner 4X trebles for the rear hooks.  The designer hooks have a corrosion resistant coating and when they begin to rust I toss them.  Usually I lose them before that happens.  There are other brands like VMC that make sharp, strong hooks, I just haven't tried them.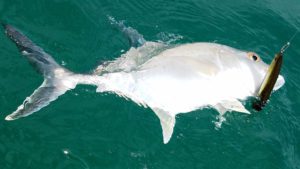 Lure Clips: Tactical Angler Power Clips.  These clips make it easy to slide in and out lures very quickly and the wide bend allows the lures to swing more freely than if tied directly to your leader. Haven't lost a fish due to clip failure yet.
Weights.  I do use a special weight to whip and troll.  It's my secret weapon.  Maybe I'll reveal it later.
Swivels.  I don't have a specific brand but I do try to use ball bearing swivels.  The bait casting reel doesn't introduce line twist like a spinner does so I don't have problems with tangles.
Lures – Whipping. I'm of the belief that the bait fish in Hawaii are small and shifty. Most of the plugs available domestically are larger than I prefer, or don't cast well in the wind.  Friends and I have been using 1/2 to 3/4 ounce, 4 to 5 inch JDM lures that match our hatch, cast well and most float.  They are hard to obtain at a reasonable price but I'll write more about them later.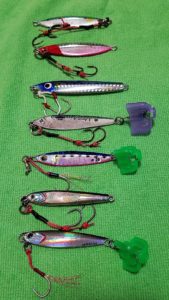 Lures – Jigging.  Since the Japanese invented the Slow Pitch jigging technique it stands to reason that the JDM jigs are the best.  The jigs available locally work too, and I've had some amazing results with the Live Deception jig by Ahi USA.  I love jigging but don't get to jig very often. Friends and I are still trying to get better at the sport.  All but the Live Deception, 4th from the top, are from Japan, but some were sold in the local tackle shops.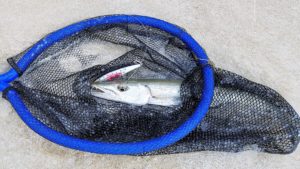 Landing Net: Promar ProFloat landing net.  It floats, it has tangle free mesh, an elastic lanyard and it's cheap.  What more can you ask for?  It's available in the tackle shops in town.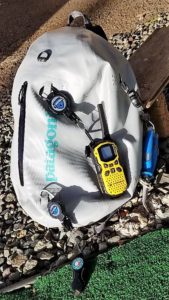 Gear Lanyards: I use various tethers on my tackle bag and kayak.  I really like the T-Reign Retractable Tether because it doesn't leave loose cords around to get tangled in.  So far, after a few years of use, they haven't corroded.  I use Boomerang Snips too and after years of use, if the retractable spring stops working I glue an attachment point and use the T-Reign tether to hold it to my bag. (see photo)
Waterproof Tackle Bag – Patagonia Stormfront Sling.  This bag is expensive, and the price has gone up twice since I purchased it 2  yrs ago.  But the main compartment really is waterproof and makes for worry-free wade and boat fishing, and easy cleanup. Patagonia honors their lifetime warranty. A zipper tab broke and they gave me a brand new sling bag after 2 yrs of use.  This time around I won't be carrying bait for oama and stinking it up.