I hadn't kayak fished much in the past few years but now that I have some dedicated SUP fishing partners, we've been getting out on a regular basis to explore new grounds.  My kayaks are from the era before pre-fab fishing kayaks so I had to outfit them accordingly.  Updated accessories have been purchased recently based on positive reviews.  I'll mention the kayak fishing products that perform especially well.  Please check out my other gear recommendations.
Kayaks: Ocean Scupper Pro and Aquaterra Swing, both discontinued.  The Scupper Pro is long (14'9″) and narrow (26″), so it paddles well but is tippy and doesn't have much room in the cockpit.  The Swing is 13'3″ long and 30.5″ wide and much more roomy and stable.  The Swing is a great boat for someone new to kayak fishing. Both are listed at about 56lb in weight but are probably closer to 60lb with the accessories that are permanently mounted..
Rack: Thule bars, Thule Glide and Set pads and cradles. I'm able to slide the yak onto the rear hatchback without much back strain.  Please read my short post about the rack system.  I'm now thinking of getting a heavier, more stable boat!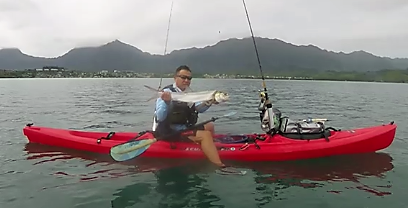 Paddle: I have an old 1-piece carbon shaft paddle that worked well but was harder to transport. I recently got a 2-piece carbon shaft Werner Camano paddle during an REI 40% off online sale.   The Camano is not only better ergonomically, it is much easier to store in the cargo area of the car.
Kayak Seat: Surf to Summit GTS Pro with a Hot Seat pad.  The more padding the better when sitting and bracing for more than 4 hrs.
Life Vest: NRS Chinook. This vest was made for kayak fishers and has a lot of pockets and attachment points.  The high back starts at my lumbar and doesn't get in the way when I lean back.  It's like wearing a comfortable tackle bag that can save my life.
Stuff in the NRS vest:
Personal Locator Beacon (PLB): ACR ResQLink+. If I need to be rescued, I can push a button and the Coast Guard will be sent my GPS location.  My emergency contact will be notified also. The unit is waterproof and floats.  Wearing it gives me and my loved ones peace of mind.
Whistle.
Boomerang Snips.
Serrated knife to cut away lines in an emergency.
Pre-tied leaders.
Hooks, swivels and lead.
Cell Phone.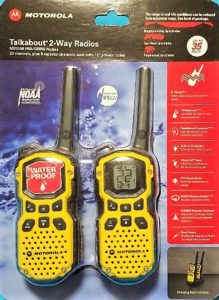 Waterproof, Floating Walkie Talkie: Motorola MS350R.  I can keep in touch with my fishing partners for safety and fish reports.  Often we're within eye sight but not ear shot of each other.  I've lost 1 walkie talkie so far, so I'm now buying refurbished units to minimize the loss.
Rod Holders: I have two Tite-Loc Rocket Launcher on the Scupper Pro and an Angler's Pal Stainless Steel holder on the Swing. The Angler's Pal is adjustable to 360 degrees but is hard to remove so I leave it mounted, parallel to the deck.  The Tite-Loc isn't as adjustable but is easily removable with one allen screw so I take it off the Scupper Pro.  Both have performed well and haven't shown signs of corrosion.
Trolling reel: Shimano Calcutta 400 BSV.  This is a bait caster without the level wind, so it's like a very small conventional reel with a clicker, and has the added features of a push button free spool and auto engage capability.  The clicker is invaluable to me when trolling since I'm not watching the rod/reel.  Purchased used on eBay.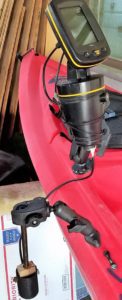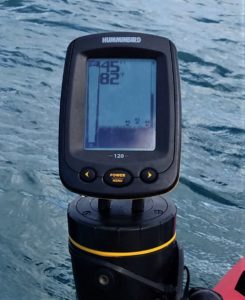 Fish Finder:  Huminbird Fishin Buddy 120.  Discontinued. This simple unit has both a side finder that scans the top portion of the water in front of my kayak and a traditional bottom finder.  Runs on 6 AA batteries.  I cut off the fixed plastic tube that held the transducer cord and mounted it on the kayak with Ram Mounts.  The transducer creates a small bit of drag but having a fish finder on the boat is worth the extra resistance. If I need to paddle far I'll lift the transducer out of the water.  Fishing without it is like fishing blind.
Net:  Promar ProFloat Landing Net.  Besides the fact that it will float if I drop it, it also has snag free mesh.  Fish I'm about to tag are much more controllable sitting in the net in front of my lap.
Gaff:  After a small boat friend hooked a 35lb shibi in the area that we fish and eventually landed it with a kage gaff, I'm trying to remember to take a small traditional gaff again. For years I got by without even a net since the fish I caught were small.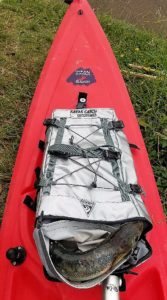 Kayak Cooler:  Seattle Sports Kayak Catch Cooler.  This cooler fits the bow of the kayak really well and has a removable waterproof  inner sleeve that keeps the fish separated from the block of Arctic Ice – Alaskan Series that I use.  Easy to reach forward and store fish, and when I pull the fish out at home, it's like they were stored in the fridge.  The inner and outer bag clean up quickly.  No more fish spoiling in the hot Hawaiian sun.
Live Bait Bucket: Plano Flow Troll. The same yellow bait bucket we all put our oama in.  I submerge it in the water every so often to refresh the water for the oama, and keep it in the cockpit when I paddle.
Dry bag: Sealine see-thru bag of miscellaneous stuff. Used to be water proof but has been poked too many times by fish spines and tag applicators.
Paddle and rod leashes:  Bully coiled leashes purchased at Go Bananas. Very similar to surfboard and body board leashes.  Very compact and strong. No muss not fuss, just does what it's supposed to do.