Thad, Frank and Erik wanted another go at the halalu; Kelly couldn't make it.  This would be Erik's 2nd attempt and Frank's and my third attempt.  Thad had done a lot of halalu fishing in the past but only once recently, when he took Frank and me for our 1st lesson.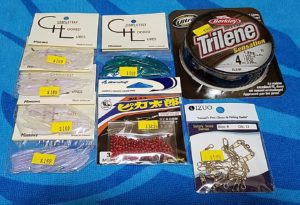 Since Frank's CHL Minnow with a red bead worked so well the last time, I purchased those and some other halalu necessities from Charley's.  This time Ed gave me more halalu pointers and I was beginning to think I could do better with the proper technique and equipment.
The starting tide was a little lower than the last time but would be rising very quickly since we've been having so called King Tides for more than a week.  The bite was a lot slower than our previous trips and Thad, our Halalu Hammah, had to work to catch the first fish on his home made flies.  Frank joined him and began hooking up with the purple obake CHL minnows, and actually overtook the Hammah!  I entered the fray and eventually caught one with the purple obake minnow.  Hmmm, maybe this isn't so hard after all?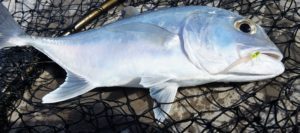 Erik started with a combo fly and grub offering and hooked something that pulled drag off his small Shimano budget reel he had just picked up from Nankos this week.  The fish took him through the line up twice but Erik managed to steer it away from us and after a 6 minute scrap with a 2lb leader, skillfully landed a 13 inch white papio!  He tagged and released it to distance himself from second place on the Tag It leader board.
I went back to whipping for halalu as Thad and Frank were hooking up every few minutes.  The tide rose, the bite slowed, and Thad tried different fly patterns and soft plastics.  Frank stuck with what worked for him and kept jigging the CHL minnow with the right-hand-on-the-blank-fast-cranking-with-the-left-hand technique.  I tried to copy his style and was failing badly.  I hadn't had a nibble in an hr, with only 3 halalu in the bucket. I gave up, walked around, took pictures, drank water and watched the guys jig.  Erik was struggling too so we tried to cheer each other on.  I even had Frank try my rod, and I tried his. His soft, telescopic 6 ft rod had a nice, soft whippy action when jigged high up on the blank. My old, graphite whipping rod didn't flex at the top of the rod. Aha! That's my excuse! I stopped fishing again but resumed to try different retrieves that I've seen other regulars succeed at. None worked. In the last few hours Erik and I didn't catch a single halalu.
The tide got really high where only the two Hammahs continued to fish, with water rushing past their tabis.  The other regulars had given up and gone home, and it was time for even the Hammahs to quit.  Final count for this challenging bite: Frank had 32 (only his 3rd attempt at halalu fishing, what a natural!), Thad had 27, I had 3 and Erik caught the largest fish but no halalu.  Technique definitely matters when the bite gets tough!
This may be my last attempt at Halalu Fishing!  Hope you enjoyed the posts.