In the past, our "season" has ended when the water temps cool and the bait leaves the inshore waters.  Knowing this end was near, we prepped the kayaks and SUPs to do some nearshore bottom fishing further out than we had attempted.
The first outing yielded our first kayak/SUP uku but we had to paddle in to safety against strong winds and deal with having to keep the kayak straight in following seas.  This was how that outing went.
After that successful but dangerous outing, we tried another deep drop off but the wind came up and was pushing us out to sea. We had to paddle for our lives to get in and were emotionally shook up from the realization that we would have needed to be rescued if we had become incapable of paddling hard for shore.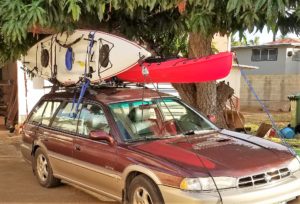 I had Go Bananas in Kapahulu add a rudder and some convenient bungee "trees" to my Scupper Pro, and I picked up a Garmin EchoMap 44cv fish finder/gps from West Marine on Black Friday.  My hope was that the rudder would make my paddling more efficient, especially in windy conditions, the GPS would take us to nearby artificial reefs and mark hot spots, and the more advanced fish finder would accurately tell us what type of fish were below.  I also got a Thule Hull-A-Port "J" style cradle to securely carry the second kayak on its side.
Our next outing was back to the deep water spot where we had gotten in trouble.  This time we picked a day with almost no wind, and not much swell.  The new fish finder/gps accurately told us the depth we were in, and marked what I think were fish on the bottom and a large bait school suspended from about 50ft to 100ft.  Nothing was biting our jigs and I paddled further out to mark more bait. I heard Frank yell "hanapa'a" but couldn't see what he was fighting. He tried to talk over the walkie talkie while fighting the fish but I was just getting fragments.  When I paddled back to him, he was getting towed against the wind and current towards me!  The fish didn't want to tire, and he was battling it on an ancient Penn 430SS which was definitely not made to fight fish of that size.  I shot video of the long fight and the very difficult landing process.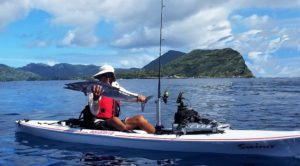 Frank will write up his recollection of the amazing, miraculous experience but here's a preview of his catch.  We still can't believe he caught a pelagic on only our 3rd deep water outing.  I jigged near the bait school for a few drops for nada and then we paddled in to take care of the prized fish.
On the next light wind day I was dying to return to the opelu / pelagic spot. Frank couldn't make it but had designed and oversaw the process of fabricating a streamlined transducer rod and plate so I could hang the transducer over the side with as little drag as possible.  This thing is work of art!
I tentatively paddled out solo but was relieved to see so many boats around and helicopters above.  The bait school was deeper on this day, in 125 ft of water but again, nothing bit my jigs.  I even tried trolling jigs and swimming plugs "Frank-style".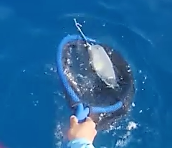 Happy enough that all the new equipment was working well, I let the wind blow me in as I steered with the foot controlled rudder.  At 100 ft I had a bite on the jig that came off. I assumed it was a hage but was still glad for that one bite.  At 80ft I hooked something that felt like a small hage and winched it up. I was stunned to see a nabeta hooked on the rear treble of the Live Deception 2 oz jig with its swim bladder popped out through its gill.  I marked the spot on my GPS and returned to it but couldn't catch another fish.  I'll have to return with a proper damashi-type of setup.
My friend and fellow kayak fisher, Haru, told me how to gut the fish but leave the scales on and scrub the slime off with Hawaiian salt, then salt and pepper it before deep frying, taking it out to cool, and then frying it a second time to crisp up.  My wife used a ponzu sauce and chilli pepper water Frank had given us, and that fried nabeta was ono with a non-fishy, sweet, soft texture.
So far the uku, ono and nabeta we've caught in deeper water have been much less fishy tasting than the papio we've been catching inshore.  Now I understand why boaters often prefer bottom fish to reef fish.
Instead of waiting for the bait fish to return to the shallows, we're now gearing up to target the bottom fish and pelagics of the winter season.  Chee hoo!!